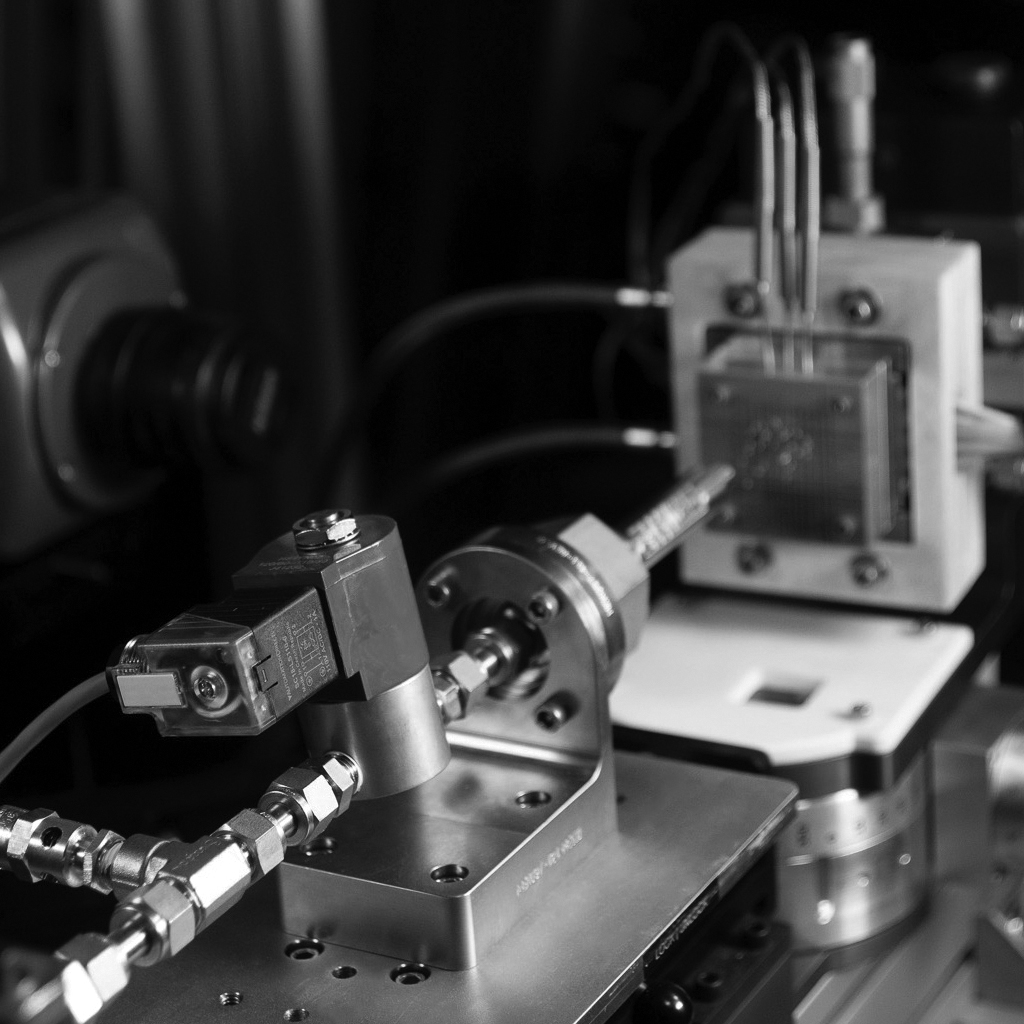 Cannon to study aerospace shot peening
Sector
Aerospace
Societal benefits
This project aims to produce lighter and more durable metal aerospace parts. The direct impact is to reduce the environmental footprint of air transport.
Mandate
Develop and fabricate a system to project a shot-peening particle at a very high speed onto a target whose temperature can be varied, with an adjustable projection angle while filming and measuring the particle's impact velocity and rebound. The system allows particles to be projected several times at the same place and is equipped with a microscope to photograph the impact craters. The system can project particles of all types of materials, including metallic and ceramic.
Development time
13 months
Technological advancements
Method for making long metal cannons for microscopic diameters
High-velocity barrel with precise control and high repeatability
Accuracy and repeatability of the impact zone
Sample installed on a micrometric displacement system
Precision heating system for the sample
Scientific advancements
Better understanding of the microstructural changes induced by the shot-peening process. This phenomenon is one of the challenges for the aerospace industry because shot peening has a major effect on the fatigue life of metallic materials.
Specs
Security perimeter: 102″ x 42″ x 79″H [2.6 x 1.1 x 2.0 m]
Projection fluid: Nitrogen
Projection speed: 30-600 ft/s [10-180 m/s]
Particle diameter: 0.002-0.200″ [50 μm to 5 mm]
Angle of projection relative to the target: 90°-135°
Sample temperature control: 20-400°C (± 1.0°C), three-point measurement
Sample size: 2.5″ x 2.5″ x (0.062-1″) thick [64 x 64 x (1.5-25.4) mm thick]
Dimensions of impact area available on the sample: 1″ x 1″ [25.4 x 25.4 mm]
Displacement of the target: Vernier micrometer, reading 1μm
High speed cameras: 500000 FPS max