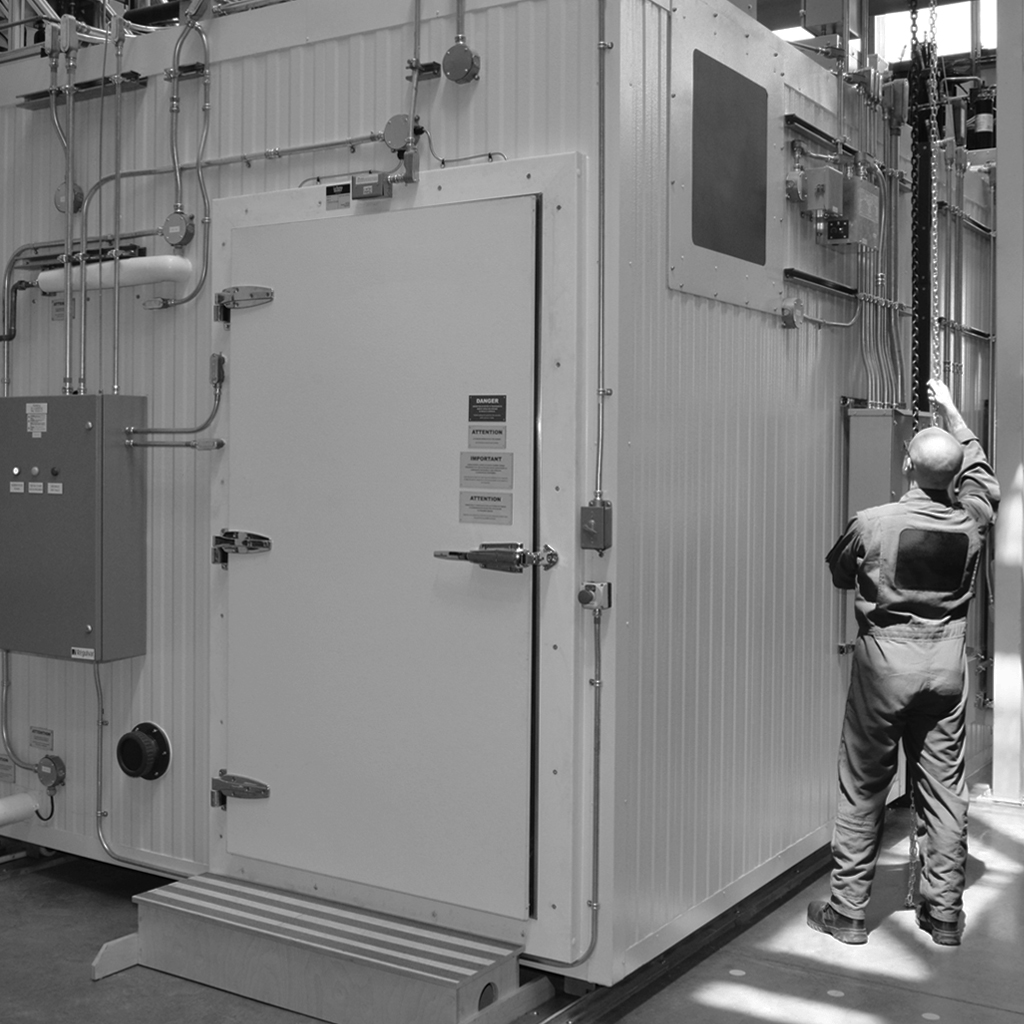 Climatic chamber for engineered wood building envelope
Sector
Wood Sciences / Refrigeration
Societal benefits
This equipment qualifies new bio-based building materials and develops new material configurations to recommend new standards and best practices from design to manufacturing and implementation in the building sector using wood and other bio-based matter as raw materials.
Mandate
Develop and manufacture a two-compartment climate chamber to simulate the actual weather conditions an engineered exterior wall will experience. It allows the development of new recommendations and new construction standards for building envelopes. The chamber replicates indoor and outdoor climate conditions across Canada. This includes temperature, humidity, sunlight ageing, rain and wind. The wall can weigh up to 2,800 lbs and is inserted between the two chambers using a monorail to which custom-built lifting equipment has been added.
Development time
26 months
Technological advancements
Mobile room with service distributor for electricity, cooled water, compressed air and communication signals
Isolated chilled water hoses with high-friction tolerance
Robotic chain for power electricity
Operation and stability over a very wide range of temperatures and humidity
Ability to apply temperature and humidity ramps
Web interface for remote monitoring and control
Handling system, securing to climatic chambers and thermal insulation of the experimental wall
Scientific advancements
Deepened knowledge related to the physical phenomena ensuring good performance of building envelopes. The emergence of new materials such as bio-based matter, changes in assembly methods and strategies to improve the energy efficiency of buildings have a significant impact on building performance and environmental footprint. The main research topics under study are the thermal resistance and dew point positioning inside walls, the impact of poor workmanship, and the hygroscopic retention capacity of new ecological building materials.
Specifications
Dimensions: 26′ x 9′ x 17'H [5.8 x 2.7 x 5.2 m]
Refrigerant: R-404A
Data acquisition for experiments: 112 channels (RTD and 4-20 mA)
Remote control and operation via secure internet network
Exterior room

Temperature: -30 to +30°C
Humidity: 20-80% RH
Cooling rate: 0.3°C/min
Warming rate: 0.6°C/min
Stability temperature: ± 1.7°C
Humidity stability: ± 2.0% RH
Interior room
Temperature: +5 to +50°C
Humidity: 15-90% RH
Cooling rate: 0.3°C/min
Warming rate: 0.3°C/min
Stability temperature: ± 1.7°C
Humidity stability: ± 2.0% RH
Future options
UV lamps to simulate the sun: 5000 W
Sprinkler system to simulate rain: 120-320 USGPM [450-1200 L/min]